Wednesday, 3/29, 7 pm ET:
A virtual event with Adventures by the Book
I'm excited to take part in a fun virtual book event on Wednesday night: Virtual Book bingo with five other novelists, all of us talking about our books. There will be lots of book prizes, and it's free to join!
Come celebrate Women's History Month with us!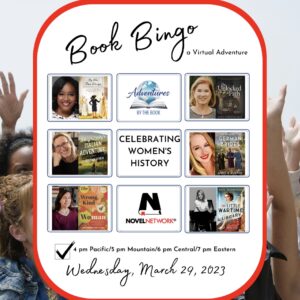 And if you haven't heard of AdventuresbytheBook or NovelNetwork, check them out! They're great resources for readers, book clubs, and writers.