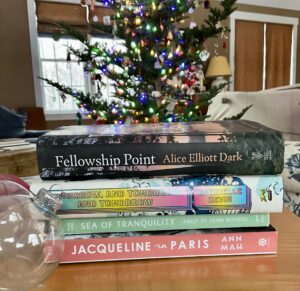 End-of-the-year book post, part 2
As I mentioned before, I'm ambivalent about best-of-the-year lists. And those novels that seem to be everywhere are everywhere because their publishers made it happen, with money, marketing, and advertising. Still, I loved some of those everywhere books too! Here are some favorites:
Fellowship Point, Alice Elliot Dark
My favorite novel this year. FP follows two lifelong friends, Agnes and Polly, through their lives in Philadelphia and summers at Fellowship Point, their small colony in Maine, founded by their Quaker great-grandfathers. Agnes, never married and prickly, is at the heart of the novel, and Polly more of a supporting character, although Polly gets her own POV sections too. The novel covers a long period of time, but the present story takes place in 2000 and concerns Agnes' attempt to protect their colony from predatory developers. It's a big novel, 19th-century-novelish in its themes and concerns, with a jolt of melodrama late in the story. And it's a novel about friendship, a rare thing. It was a perfect summer read for me, a long book to sink into and live with.
Tomorrow and Tomorrow and Tomorrow, Gabrielle Zevin
My other favorite novel this year. This is the novel that seemed to be everywhere this summer and fall. Like Fellowship Point, TTT is a novel about friendship and its power, and how it affects our lives. Sam and Sadie are two video gamers who meet and become friends in childhood. The novel follows them through three decades of friendship  as they form a little company together, build video games, and go through A LOT of ups and downs. Immersive, beautiful, and long; also 19th-century-ish in its omniscient narration and in its length. (And you don't have to be interested in gaming to like this novel. I have no interest whatsoever in video games.)
Sea of Tranquility, Emily St. John Mandel
If you loved Station Eleven, you'll love Sea of Tranquility. Wider in scope than Station Eleven—it ranges from the turn of the 20th century to 2300 —Sea of Tranquility is also a time-travel novel. It connects a handful of seemingly unrelated characters, and its puzzle of a plot resolves beautifully. This novel has some of the same preoccupations of her previous novels, loneliness, isolation, exile. But it's a page-turner, too.
Lessons in Chemistry, Bonnie Garmus (not pictured)
I love a funny novel about grief, and Lessons in Chemistry fits that bill. Main character Elizabeth Zott is a chemist trying to work in the early 1960s, undaunted by sexism and misogyny, and yet derailed into a TV cooking show that she turns into her own thing, showing housewives the chemistry behind cooking. It's funny, wry, odd. 
Jacqueline in Paris, Ann Mah 
The story of Jacqueline Kennedy's junior-year-abroad experience in Paris (when she was just Jacqueline Bouvier), this novel won me over; I didn't expect it to be as compelling or as sensitively rendered as it was. The novel does a wonderful job giving us Paris of the late 1940s, when the war and all its wounds are still fresh, and the new Cold War reality hasn't quite settled out yet.