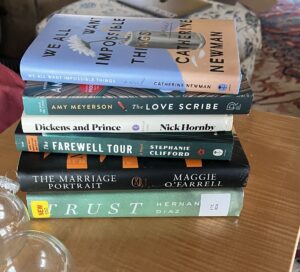 New Year's Reading
List
What's on your early-2023 reading list? I've got a bunch of books I'm excited about (or that I should have already read!). Tell me what you're reading, or what you're looking forward to reading!
Here's my first list of 2023, mostly novels:
We All Want Impossible Things, Catherine Newman, out now
A friendship story and a novel about grief that's also funny: Lifelong friends Ash and Edi cope with Edi's ovarian cancer.
From the publisher: Edith and Ashley have been best friends for over forty-two years. They've shared the mundane and the momentous together: trick or treating and binge drinking; Gilligan's Island reruns and REM concerts; hickeys and heartbreak; surprise Scottish wakes; marriages, infertility, and children. As Ash says, "Edi's memory is like the back-up hard drive for mine."
The Marriage Portrait, Maggie O'Farrell, out now
O'Farrell's Hamnet was my favorite novel of 2020. Her new novel is another historical novel, this one set in Renaissance Florence, about Lucrezia, who marries into the Medici family.
From the publisher: Florence, the 1550s. Lucrezia, third daughter of the grand duke, is comfortable with her obscure place in the palazzo: free to wonder at its treasures, observe its clandestine workings, and devote herself to her own artistic pursuits. But when her older sister dies on the eve of her wedding to the ruler of Ferrara, Modena and Reggio, Lucrezia is thrust unwittingly into the limelight: the duke is quick to request her hand in marriage, and her father just as quick to accept on her behalf.
The Love Scribe, Amy Meyerson, forthcoming in February
I'm excited about Amy Meyerson's latest novel–I loved her previous novel The Imperfects, a heartfelt but astringent family story. The Love Scribe is the story of Alice, a woman with a special gift.
From the publisher: When Alice's best friend, Gabby, is reeling from a breakup, Alice writes her a heartfelt story to cheer her up. While reading it in a café, Gabby, as if by magic, meets the man of her dreams. Thinking the story might have some special power to it, Gabby shares it with her sister and other friends, who all find instant love. Word of mouth spreads, and Alice stumbles upon a new calling—to be a love scribe.
Dickens and Prince, Nick Hornby (essays), out now
Dickens and Prince, two prolific creatives who seem to have little in common; Nick Hornby argues otherwise.
From the publisher: Equipped with a fan's admiration and his trademark humor and wit, Nick Hornby invites us into his latest obsession: the cosmic link between two unlikely artists, geniuses in their own rights, spanning race, class, and centuries—each of whom electrified their different disciplines and whose legacy resounded far beyond their own time.
The Farewell Tour, Stephanie Clifford, forthcoming in March
A dual-timeline novel: Lillian Waters, a mid-century country-music star and songwriter (like Loretta Lynn or Tamy Wynette), tells us her story as she tours the country one last time,
From the publisher: It's 1980, and Lillian Waters is hitting the road for the very last time.
Jaded from her years in the music business, perpetually hungover, and diagnosed with career-ending vocal problems, Lillian cobbles together a nationwide farewell tour featuring some old hands from her early days playing honky-tonk bars in Washington State and Nashville, plus a few new ones. She yearns to feel the rush of making live music one more time and bask in the glow of a packed house before she makes the last, and most important, stop on the tour: the farm she left behind at age ten and the sister she is finally ready to confront about an agonizing betrayal in their childhood.
Trust, Hernan Diaz, out now
A novel with an inventive structure (a fictional novel within the novel, called Bonds). I've just started this one.
From the publisher: Even through the roar and effervescence of the 1920s, everyone in New York has heard of Benjamin and Helen Rask. He is a legendary Wall Street tycoon; she is the daughter of eccentric aristocrats. Together, they have risen to the very top of a world of seemingly endless wealth—all as a decade of excess and speculation draws to an end. But at what cost have they acquired their immense fortune? This is the mystery at the center of Bonds, a successful 1937 novel that all of New York seems to have read. Yet there are other versions of this tale of privilege and deceit.
Find my favorite books of 2022 here and here.
And you can find some of my recent book reviews at BookPage magazine.